There's Opportunity Everywhere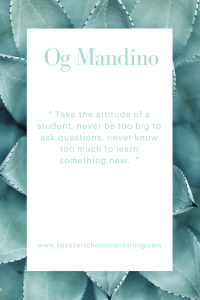 by Julie Escobar
I loved what I witnessed at the annual National Speaker's Association conference. Speakers of every level of their industry and experience came together to celebrate–and to LEARN.  While I'm sure there were a few who considered themselves at the pinnacle of their profession and had way more to teach than learn, I think they were by far the exception, not the rule. What I know, is that the best people in the speaking field? Never rest on their laurels. They keep fine-tuning, tweaking, immersing themselves in their craft so that every single time they step on that stage–they are even better than their last.
Like an artist or an athlete. Every master artist you've ever known, and certainly every major industry athlete — are always in a state of training. Of perfecting skills. Of searching out new mentors. Of taking on new protégés. (Because there is SO much to be learned when we teach as well!). I think of Anthony Robbins charge for people to, "Commit to CANI! – Constant And Never-ending Improvement." I love that. A simple reminder that every day is n opportunity for growth.
24/7 Learning. How amazing is it that we live in a time where learning is available to us 24/7.
YouTube:  Search your favorite rock-star speakers and spend at least an hour a week watching their delivery style, their timing, their cadence, they content and watch them as you would a trusted teacher. Take notes. Put into action what you learn.
Audible:  I love this app that allows you to listen to books on-the-go! For busy speakers, it's perfect for long flights. A great book, an amazing set of ear plugs and you're up-up-and-away!
Speaker-specific books. I love the no-nonsense advice Motivational Keynote Speaker Connie Podesta shares in her book Audiences Stand Up When You Stand Out – 70 Strategies for Speaking Success. It's a quick read and a great reference!
Love this quote by William Pollard, "Learning and innovation go hand in hand. The arrogance of success is to think that what you did yesterday will be sufficient for tomorrow." Keep learning. Keep growing. Keep innovating. When you do? Audiences will line up to listen to you!
Need help? Call us today at 866.405.3638!