Time to Clean Out Your Content Closets
by Julie Escobar
One of the things that speakers and coaches tend to forget is that they already have a treasure trove of content in their "closets". All right, so they might actually be on a hard drive, or a file folder, or a desk drawer — but you have it. Old articles. Idea snippets. Books. Blogs. Journals (don't get me started on how much content can be pulled from those). Unfinished chapters. Bold ideas.  And they're all just sitting there collecting dust.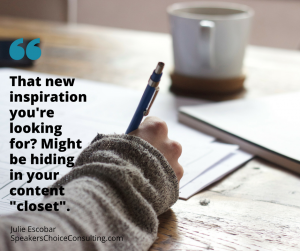 What could they be doing instead?
New blog content for your site
Great ideas for quick videos for your YouTube channel
The foundation for new books, articles or white papers
Great social media fodder
Creating is sometimes hard, and keeping up with the amount of content that most speakers need to ensure that their site is consistently updated, relevant, and timely can be overwhelming. Most of my clients don't know where to start. That's when I tell them, let's open up that "closet". What do you have by way of old content that we can dust off and breathe new life into? In many cases, one unpublished chapter can be turned into six social media graphics and two great blog posts. All those scraps of paper or journals with doodled ideas or presentations created long ago for past clients all are a hotbed of content that can be repurposed and made new again. Who knows? Sometimes some of our BEST stuff is lurking in those old files!
All you need is a plan. A direction. And maybe a little help getting it organized. After that? It becomes a routine that keeps you from having to rack your brain for new content ideas, keeps the GOOGLE search engines happily indexing your new content, and keeps your readers and fans engaged an interested.
All win-win stuff! If you need help? Give me a shout! I'm an expert closet-cleaner for speakers and coaches! Contact me today at 813.957.2989.